Established in 2010 and donated to my hometown. Hosted and maintained by KMS. The town's history, directions, attractions, churches, commerce and town festival, the Schuetzenfest, are all outlined here. It was designed to work directly with the Fans of Ehrhardt, SC facebook page. The facebook page is interactive, allowing all members to post announcements or pictures and is full of the rich history of our area. Hosted by KMS.



This site was established in 2012. GreenLink Forest Resources was founded to offer FSC group certification to private landowners of the Carolinas and Georgia in a cost effective manner through the GreenLink Forest Stewards Group. Designed with forestry graphics and special effects, this site fulfills its purpose for the client. Hosted by KMS.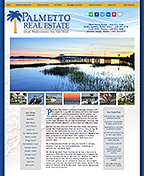 This site was established in 2014. Palmetto Real Estate is a General Brokerage Company with the capability to provide real estate service to both buyers and sellers in and around Beaufort, South Carolina. Beautiful photographs that capture the essence of Beaufort are the attention grabbers, and the site includes all MLS listings. Hosted by KMS.